The produce for our pantry has just arrived! We have apples, plums, bananas, grapes, cranberries, potatoes, carrots & oranges. The FMS pantry will be open this evening 5-6. EVERYONE is WELCOME. Come grab some of this beautiful food, then head over to the PTA meeting at DNS.
Good morning, Fisher Mitchell's book club this afternoon is cancelled. Additionally, the Table Talk Tuesday potluck is cancelled as the weather does not look promising and the fresh produce delivery is unable to make it as a result of the weather.

There will be a two hour delay for all RSU1 schools today, Tuesday, November 12th, due to the weather. There will be no morning Pre-K.
Message from the PTA: It's time for our November PTA meeting. This Tuesday November 12th, we will be meeting at Dike Newell from 6:00-7:00pm. Come join us as we finalize the details for our first ever Student Makers Market. We will be starting to plan the cake auction and cookie exchange for December and putting that list together of to-dos for our Bingo night in January. Want to get involved in STEM night? It's on our agenda. And if you weren't present at our October meeting, you missed all the wonder dishes everyone brought in. Seeing adding food went over so well, we decided to do it again. Feel free to bring a snack, dish or dip to contribute. 
Don't forget about the upcoming 4 DAY WEEKEND! NO SCHOOL Friday, November 8-Professional Development AND NO SCHOOL Monday, November 11-HOLIDAY
The Bath Elementary PTA Halloween Dance has been postponed because there is no power at Bath Middle School. The PTA is working hard to reschedule the dance and will forward additional information when it is available.
There will be no school today, Thursday, October 17th, in RSU1 due to power outages caused by the storm.
Picture Day is Tomorrow!
THE FMS PANTRY IS FULL OF PRODUCE!! COME BY TONIGHT 5:30-6:30 The pantry is open to all FMS families. Stop by and take some home with you.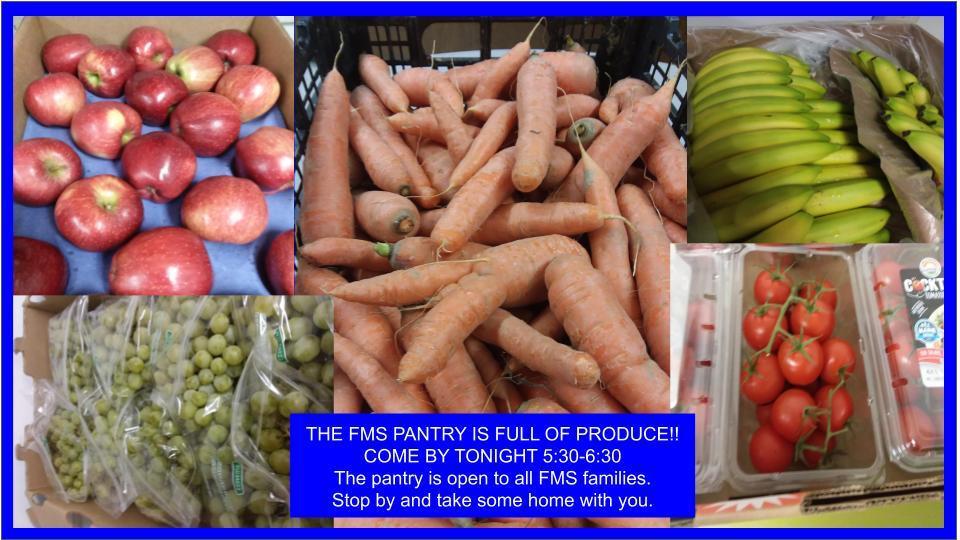 We look forward to seeing you tonight at our Table Talk from 5:30-6:30 and the PTA meeting from 6-7.
Picture Day will be postponed to Wednesday, October 16 due to tomorrow's weather forecast.